Who We Are
Solar Biotechnology Ltd. is an Izmir based technology company specialized in design and manufacture of MEMS or robotic based solutions to simplify complex systems in healthcare by a multidisciplinary approach. Our ODM services cover the complete spectrum of the product lifecycle from concept to design through manufacturing and after-market services for a variety of medical technology related markets. Our engineering expertise encompasses complex PCB design, mechanical engineering, firmware and software development as well as biochemistry and molecular biology studies, providing an end to end turnkey solution for companies seeking full product development and manufacturing services from a single source, resulting in time savings and cost optimization by minimizing margin stacks throughout the value chain.
Located in the health technology park of Dokuz Eylul University, SolarBiotec offers a flexible business model which companies can benefit from direct engineer to engineer development and rapid time to market with a competitive cost.
Founder and Chief Executive Officer:
Dr. Yalın Kılıç, M.D., Ph.D. is the Founder and President of Solar Biotec. Dr. Kılıç earned an MD. from Hacettepe University and PhD in Medical Biology and Genetics from Dokuz Eylül University. His dissertation work was based on predicting prognosis with expression and methylation patterns of tumor suppressor genes in cancer. His postdoctoral work focused on developing low cost medical devices for molecular diagnosis of diseases. Dr. Kılıç has spent more than ten  years investigating innovative technologies and developing multi-discipliner relationships with scientists, engineers and clinicians. He also works as an Assistant Professor in Department of Forensic Medicine in Dokuz Eylül University School of Medicine and is the founder and PI in the Molecular Forensic Analysis Laboratory of DEU.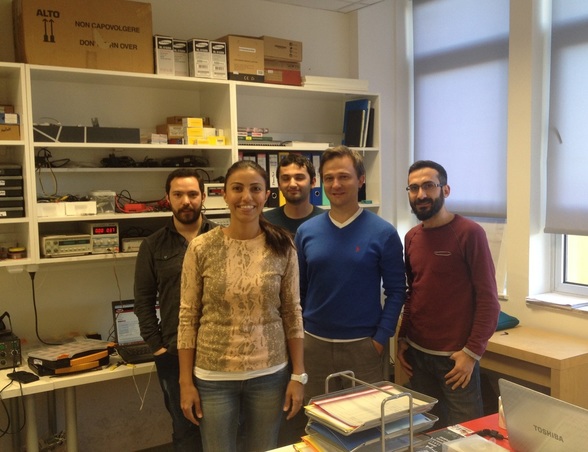 Chief Scientist:
Özlem Kılıç is the chief scientist of the company with her Master of Science degree in Physics. She has 4 year experience in design and manufacturing of hybrid micro devices and medical instrument systems in projects supported by TUBITAK-TEYDEB (Scientific and Research Council of Turkey, Technology and Innovation Funding Programs Directorate).
Chief Engineer:
Arif Umut Çaga Özer, the chief engineer of the company owns a Master of Science degree in Computer Sciences and has experience in development of cyber-physical-system (CPS) structures for hybrid sensor interfaces. With his 4 years of commitment to SolarBiotec, he had been in charge of the entire hardware architecture in embedded systems and their associated peripheral units, including the ones recruiting electro-chemical and electro-optical sensing interfaces, in many R&D projects supported by TEYDEB.
Advisory and RnD Team:
Dr. Kıvılcım Kılıç, M.D., Ph.D. in Neuroscience
Rıza Salur Kurucu, Master of Science in Physics
Serif Burak Orpak, Hardware Architecture Engineer
Alper Demirhan, Embedded Systems Engineer
Our History
With the experience in both molecular research and medical/laboratory instrument design, Solar Biotechnology Ltd. was founded in 2011 to facilitate the bridge between academic and industrial parties.
SolarBiotec was founded as a Teknogirisim (Techno entrepreneurship) company to perform the technological feasibility experiments to develop a portable instrument for molecular diagnostics.
​By the completion of the project, the company moved to the Izmir Technology Development Zone, to get a tax-exempt status in 2014.
In 2015, Solar Biotec gained Genoma Medical Technologies to increase their experience further in Medical/Laboratory instrument design.
---